MOJO Magazine proclaimed Byrd's Auto Parts, Jon Byrd's debut recording, "Americana the way it was and the way it should be." MAVERICK Magazine declared Byrd's follow-up record  Down At The Well Of Wishes "spellbinding, showcasing a true genius at work." That same year Jon was a featured vocalist on the Red Beet Records Grammy-nominated I Love: Tom T. Hall's Songs Of Fox Hollow, alongside Patty Griffin, Buddy Miller, Bobby Bare, and Tom T himself.
So how do you follow that kind of run? By making a record the way the old Nashville outlaws did: by recording the best written songs around, even if they happen to be written by your friends! Jon's latest recording ROUTE 41 is available now and includes songs by both Atlanta friends and Nashville neighbors.
.
"The thing about Byrd is that he has a well-worn and rough voice that could draw a comparison to a more countrified Leonard Cohen." – PopMatters
.
"Byrd's an understatedly great singer. And the songwriting… applies a fresh, sharp, Southern vocabulary. He's understatedly great at the writing part, too." – The Nashville Scene
.
"Smooth, affecting, classy country… mature experience to match the vocal finesse." – Engine145.com
.
"Full of lovely guitar touches and brimming with clever, mordant songs" – The London Telegraph
.
"Even in the rootsy arena of country musicians full of reverence for the genre's past, crafting new music doesn't have to be a regurgitation of worn clichés… Jon Byrd proves it."– Georgia Music Magazine
.
"Mature songwriting is married to some classy playing, whilst Jon's warm, slightly gruff but very relaxed singing holds the centre. … Though he sings of heartbreak and regret, there's something enormously reassuring about Jon Byrd's music, a refuge in troubled times."– No Depression/Flyinshoes
.
"A superbly talented songwriter… on a par with other Americana stars like Prine, Snider, Crowell… a fine representation of one of the best songwriters and stylists today."— Americana Gazette
.
"A mixture of Americana and country and is spellbinding showcasing a true genius at work." – Maverick Magazine
.

"Americana the way it was and the way it should be." – MOJO Magazine
.
"Byrd's Auto Parts: We don't rock.  Ever."
Bio: East Nashville, TN 37216

JON BYRD lived his formative years deep in the piney woods of south Alabama, just one county over from the birthplace of legendary country music artist Hank Williams. When Jon was just eight years old his dad was diagnosed with TB and began singing Jimmie Rogers' song "TB Blues" all around the house. That same year Jon saw the Beatles on Ed Sullivan and his obsession with the musical tension between country and rock and roll was born. Two years later he was conscripted at age 10 years into the drum corps of his tiny high school's marching band and played Booker T. and the MG's "Green Onions" while the majorettes held the cymbals and danced. There was no turning back.
After touring nationally in the 1980s with Southern jangle-pop purists Tim Lee and the Windbreakers, and Birmingham's Primitons, the 1990s saw Byrd attempting a Ph.D. in American Studies at Emory University in Atlanta… and also becoming a central figure in Atlanta's infamous Redneck Underground movement as lead guitarist for the seminal and storied country band Slim Chance and the Convicts (Letters to Mama, 1993, and Twang Peaks, 1996). He also formed the hard country band The Ratchet Set with Clare and Todd Butler as a musical outlet for his love of old trucking songs and two chord honky-tonk gems.
In 1998, after 7 years of teaching and no dissertation, Byrd helped country traditionalist Greta Lee record her first full-length CD This Ain't Over Yet. In 2001, he co-produced and again handled lead guitar duties on Lee's follow-up You Must Be Present to Win. That same year, Byrd relocated to Nashville, Tennessee where he quickly made a name for himself in Music City as a singularly authentic country singer and Telecaster slinger recording with such fine country and alternative country artists as the soulful Davis Raines, Texas country singer Buck Jones, folk-rock songwriter Stephen Simmons, and the rockabilly whirlwind Suzette and the Neon Angels.
The move to Nashville took an unexpected turn. As a sideman, Jon had long been performing his own compositions–  if only one or two a night– but now he was ready to showcase his singing and songwriting in ernest. In late 2004 he debuted his band Byrd's Auto Parts, a rambling collective of in-demand players who set about fleshing out Jon's original material. A CD followed in early 2007. The recording reflected Byrd's eclectic tastes in country/roots music and his fun-loving performance style. And the critics loved it: "A terrifically accomplished, versatile country singer," reported No Depression magazine.
Since then, Jon's songs have appeared on three Red Beet Records compilations. A duet with Amelia White, "Morning Song," was highlighted on Amelia's 2009 recording, Motorcycle Dream. In the fall of 2010, Jon's composition "Silent Night" was the first single from Master Sessions, an Eric Brace and Peter Cooper recording that also featured steel guitar legend Lloyd Green and Dobro hero Mike Auldridge.
After a standing-room-only show in October 2011 at Nashville's legendary Station Inn, Down at the Well of Wishes was released to European radio where it reached no. 14 on the Euro-Americna Chart and Jon began a five week tour of the UK and Norway— his first. Over the next two years Jon put together two more international tours. 2012 also saw Jon taking the lead vocal on "How to Talk to a Baby Goat" on the Grammy nominated I Love: Tom T. Hall's Songs Of Fox Hollow, a tribute to Hall and that legendary Fox Hollow recording. This recording also included Buddy Miller, Patti Griffin, Jim Lauderdale, Lloyd Green, Elizabeth Cook, Duane Eddy, Bobby Bare, and Tom T. Hall himself!
2013 was a year of full-time touring. But he also managed to record a new record of 10 songs in the Outlaw tradition of celebrating the great writing of un-sung songwriting hero-pals. Each song on his latest recording ROUTE 41 is penned by a dear friend and was released October 2014.
JON BYRD brings music lovers of all stripes out to hear great country songs sung and played with heart and soul. He's a little more accomplished now, but he's still that little kid playing for the hometown crowd.
.
If you want on the Email-train, send in a simple request to be added via jbyrd(at)tds.net
.
About Jon's latest recording: ROUTE 41 —  "The recording of ROUTE 41 is in part a reflection of my journey up U.S. Route 41 from Atlanta to Nashville over a dozen years ago. On that trip I took some inspiring songwriters with me, or at least their songs. And of course met so many more when I arrived. A few of these writers weren't far behind me on their own journey up Route 41. Others traveled some other stretch that got them to Music City. Nashville has been the most generously inspiring place I've ever known. I love living in the same town as John Prine, Bobby Bare, and Tom T. Hall… and so many of the songwriters, and dear friends on this record!" jb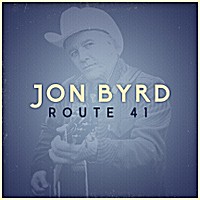 Route 41 © 2014 Produced by Jon Byrd and Thomm Jutz at TJ Tunes, Nashville, TN
The Songs and Songwriters: Atlanta
George Jones (Has Never Sung About My Girl) — written by James Kelly
I'll Play Angel — written by Dave Marr & the Star Room Boys
Just Another Gun — written by Al Shelton
The Songs and Songwriters: Atlanta/Nashville
Would You Like to Dance — written by Adam Wright
Knew All Along — written by Shannon Wright & Adam Wright
Walk On By — written by Greta Lee
The Songs and Songwriters: Nashville
In the Back of Your Mind — written by Mando Saenz & Will Kimbrough
Going to Montgomery — written by Davis Raines & Pamela Jackson
Wine — written by Peter Cooper & Baker Maultsby
Brilliantine — written by Chris Richards
Route 41 © 2014 — THE PLAYERS
Guitars: Jon Byrd & Thomm Jutz; Fiddle/Pedal Steel/Mandolin: Fats Kaplin; Piano/Organ/Accordion: Steve Conn; BGV: Shannon Wright, Sara Beck, and Milan Miller; Electric Bass: Duane Blevins / Upright Bass: Mark Fain; Drums: Justin Amaral