NASHVILLE SHOW!
•
THE 5 SPOT — Tues, May 5 @ 9PM
Derek Hoke's "$2 Tuesdays"
East Nashville, TN 
•
~
~
~
~

 
~
ROUTE 41: "The recording of ROUTE 41 is in part a reflection of my journey up U.S. Route 41 from Atlanta to Nashville over a dozen years ago. On that trip I took some inspiring songwriters with me, or at least their songs. And of course met so many more when I arrived. A few of these writers weren't far behind me on their own journey up Route 41. Others traveled some other stretch that got them to Music City. Nashville has been the most generously inspiring place I've ever known. I love living in the same town as John Prine, Bobby Bare, and Tom T. Hall… and so many of the songwriters, and dear friends on this record!" jb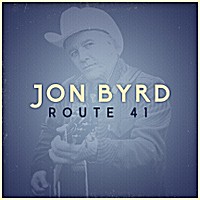 Route 41 © 2014 Produced by Jon Byrd and Thomm Jutz at TJ Tunes, Nashville, TN
The Songs and Songwriters: Atlanta
George Jones (Has Never Sung About My Girl) — written by James Kelly
I'll Play Angel — written by Dave Marr & the Star Room Boys
Just Another Gun — written by Al Shelton
The Songs and Songwriters: Atlanta/Nashville
Would You Like to Dance — written by Adam Wright
Knew All Along — written by Shannon Wright & Adam Wright
Walk On By — written by Greta Lee
The Songs and Songwriters: Nashville
In the Back of Your Mind — written by Mando Saenz & Will Kimbrough
Going to Montgomery — written by Davis Raines & Pamela Jackson
Wine — written by Peter Cooper & Baker Maultsby
Brilliantine — written by Chris Richards
Route 41 © 2014 — THE PLAYERS
Guitars: Jon Byrd & Thomm Jutz; Fiddle/Pedal Steel/Mandolin: Fats Kaplin; 
Piano/Organ/Accordion: Steve Conn;
BGV: Shannon Wright, Sara Beck, and Milan Miller; 
Electric Bass: Duane Blevins / Upright Bass: Mark Fain; Drums: Justin Amaral
Available to all kinds of radio via AirPlay Direct NOW!
MOJO Magazine proclaimed Byrd's Auto Parts, Jon Byrd's debut recording, "Americana the way it was and the way it should be." MAVERICK Magazine declared Byrd's follow-up record  Down At The Well Of Wishes "spellbinding, showcasing a true genius at work." That same year Jon was a featured vocalist on the Red Beet Records Grammy-nominated I Love: Tom T. Hall's Songs Of Fox Hollow, alongside Patty Griffin, Buddy Miller, Bobby Bare, and Tom T himself.
So how do you follow that kind of run? By making a record the way the old Nashville outlaws did: by recording the best written songs around, even if they happen to be written by your friends! Jon's new record ROUTE 41 hits this Fall and includes songs by both Atlanta friends and Nashville neighbors.
"The thing about Byrd is that he has a well-worn and rough voice that could draw a comparison to a more countrified Leonard Cohen." – PopMatters
"Byrd's an understatedly great singer. And the songwriting… applies a fresh, sharp, Southern vocabulary. He's understatedly great at the writing part, too." – The Nashville Scene
"Smooth, affecting, classy country… mature experience to match the vocal finesse." – Engine145.com
"Full of lovely guitar touches and brimming with clever, mordant songs" – The London Telegraph
"Even in the rootsy arena of country musicians full of reverence for the genre's past, crafting new music doesn't have to be a regurgitation of worn clichés… Jon Byrd proves it."– Georgia Music Magazine
Byrd's Auto Parts
We don't rock.  Ever.
If you want on the Email-train, send in a simple request to be added via jbyrd(at)tds.net