It's a New Year. Again. Like birthdays they won't stop coming. Well, we're living in the Future now– which looks a lot like the past. Without a doubt. I mean, if you go in for all that history stuff like I do. THANK GOODNESS FOR MUSIC!
•
I said I'd be concentrating more on the new record. And concentrating is exactly what's happened. Laser-focused, head down, no distractions concentration. It's essential. Plus another essential: a team. A musician, songwriter, artist must have a team. That's the only way things get done. As I said, recording "can be a long process of testing the unknown." And sometimes not. If you have the right folks involved. Producer Thomm Jutz and TJ Tunes Studio, Duane Blevins on bass, Justin Amaral on drums, and Eddie Lange on the pedal steel, Milan Miller on electric guitars and… songs– I've never worked so easily, so quickly to complete a record. Original songs, songs written with friends, friends' songs, and a couple of good ol' country covers. We we're even able to reclaim Milan's original recording and production of Silent Night with Justin, Eddie, and Thomm all laying in beautiful parts to bring it back to life. To say the least we're well on our way to a real record. Now… what to do with it? Ay, there's the rub…
•
My Tuesdays@Charlie Bob's gig over the last 8mos. really did help me recalibrate old songs, old favorites, and long-lost originals and covers. While it looks like CB's will be gone sometime in 2017, I'm already looking forward to the new record, new cities for next year's tour(s), the 10th Anniv. of "Byrd's Auto Parts." And lots of inspiration from you. Thank you friends!
•
Currently booking dates! Email me at jbyrd [at] tds.netIf you want on my slow moving Email-train, send in a simple request to be added via jbyrd(at)tds.net
•
E

very Tues in Jan! 

— CHARLIE BOB'S  6PM – 8PM
•••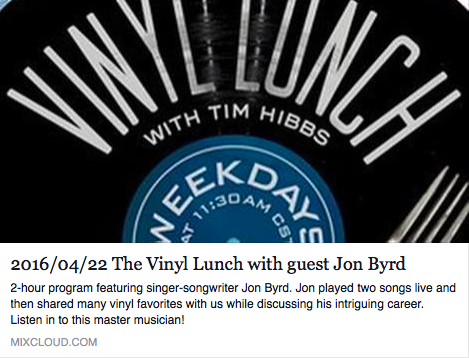 My debut for UNDER THE APPLE TREE SESSIONS with BOB HARRIS from last Fall's England Tour. A little froggy, but proud to sing a song I wrote with Mr. Butch Primm. Jon Byrd – 'Well Of Wishes' | UNDER THE APPLE TREE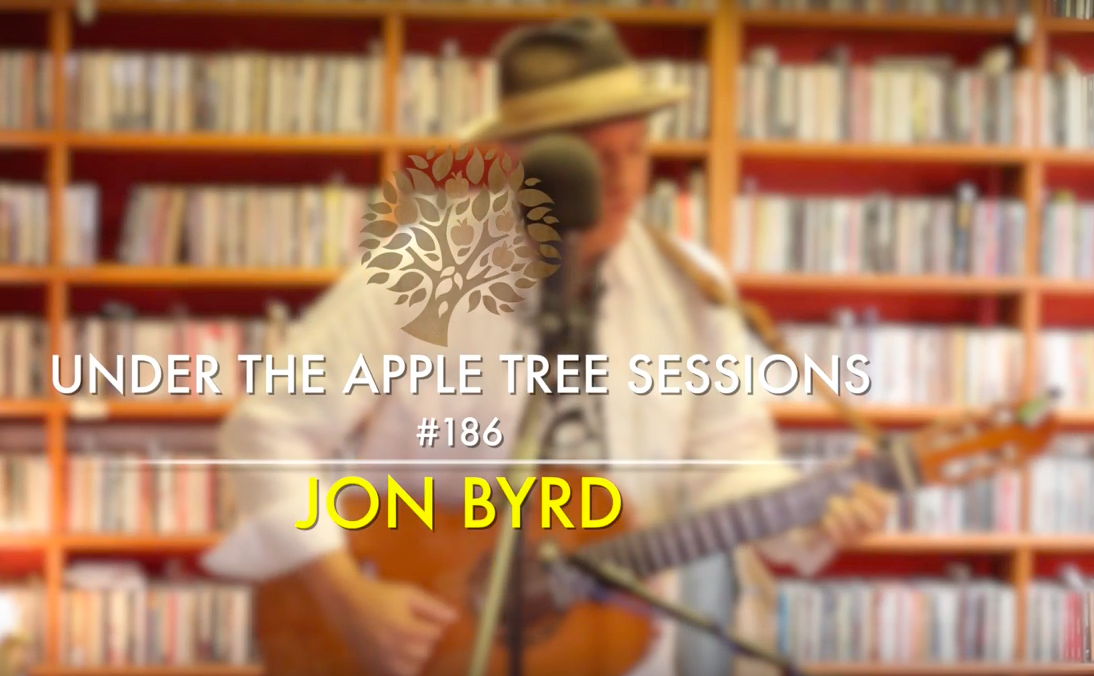 •
AND.. my interview on author and journalist Barry Mazor's "Roots Now" Radio Show on ACME RADIO can be heard HERE: https://soundcloud.com/acmeradiolive/roots-now-episode-2•
•
•
 I had the great good fortune to be a part of a film class at Watkins College of Art, Design & Film​ here in Nashville that took one of the songs from ROUTE 41 —Adam Wright's "Would You Like to Dance" — and produced a music video for it. I can't say enough about the commitment, focus, and talent of all the students involved, especially Director Roxanne Nawrot. Thank you Prof. Ron Coons​ for making this happen.
[YouTube: https://youtu.be/Pn86a9yV9lA]
•
Byrd's Auto Parts: We don't rock.  Ever.